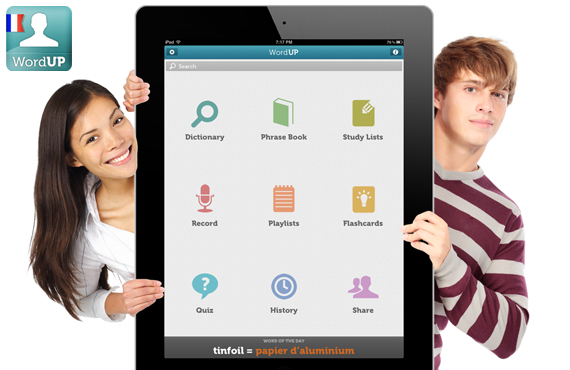 WordUP French is a bilingual dictionary and vocabulary-building app with full audio for French language learners of all levels.
Take your French language ability to the next level with WordUP! A great app for studying French or for when you travel to France. Made by Mirai Language Systems in partnership with Collins Dictionaries.

WordUP French:
Great Dictionary and Phrase Book Content
Record & Compare
Playlists
Flashcards
Quizzes
History and Share
About Us
WordUP is also available for the following languages:
Arabic ⋅ Chinese (Mandarin) ⋅ Croatian ⋅ Czech ⋅ Danish ⋅ Dutch ⋅ Finnish ⋅ German ⋅ Greek ⋅ Italian ⋅ Japanese ⋅ Korean ⋅ Norwegian ⋅ Polish ⋅ Portuguese (Brazilian) ⋅ Portuguese (Iberian) ⋅ Russian ⋅ Spanish (Iberian) ⋅ Spanish (Latin American) ⋅ Swedish ⋅ Thai ⋅ Turkish ⋅ Vietnamese
Get WordUP now!