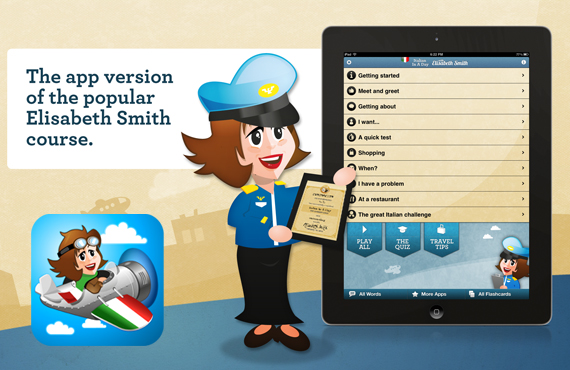 Italian In A Day with Elisabeth Smith is a fun audio-based app that introduces you to Italian in a unique and enjoyable way.
Heading off on holiday or a business trip and need a language lifeline? 'Italian In A Day with Elisabeth Smith' gives you the words and expressions you absolutely need to get by – from asking for directions and travelling around to ordering food and drinks and going shopping.

Elisabeth's approach:
Progress towards clear and achievable language goals
Listen to ten travel-based conversations then start speaking for yourself
Pick up new words using the fun flashcards
Get more from your trip with Elisabeth's travel tips
Test your progress with the final quiz
Over a million learners have used Elisabeth Smith's language courses as books, CDs and DVDs. Now for the first time you can enjoy her entertaining and practical approach on your iPhone, iPod touch or iPad. Join her on the flight to Rome and you'll be speaking and understanding Italian before you can say 'spaghetti bolognaise'!
It's fast. It's fun. It gives you just the words you need. It's all you need to start speaking
Get this interactive app now!
If you've ever played the Cube before, you will love Cube Game on iPhone!